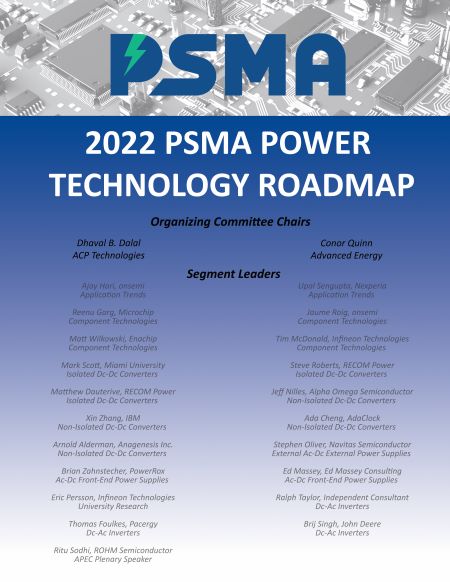 The Power Sources Manufacturers Association (PSMA) announces the 2022 edition of the Power Technology Roadmap. This 780-page report forecasts the power technology and power delivery trends through 2026. The report is available as a feature-rich USB memory drive containing the report together with a record number of twenty-two recorded webinars with up-to-date explanations of the information contained in the final report. The webinars add much to the presentation materials because the listener can hear and understand the context and the subtext of the original presentation in the speaker's voice. The recordings also capture the interesting and informative question and answer periods.
This twelfth edition of the report largely follows the format of and keeps the improvements made in the 2019 report. In this edition, the chapter on University Research in Power Electronics has been strengthened to include contributions from twenty-eight universities compared to fourteen in 2019. The Product Technology chapter has been expended by including two new segments related to Electric Vehicle Power Electronics. The Component Technology chapter has also been enhanced by the inclusion of magnetics and packaging technology trends. The APEC 2022 Plenary Session included a presentation by Ritu Sodhi on the history of the PSMA Power Technology Roadmap Report. The presentation is available in the Report and to stream here.
The 2022 PSMA Power Technology Roadmap Report offers a consolidated view of the latest trends in the management, control, and delivery of state-of-the-art technologies by integrating the most recent inputs from webinars, surveys, analyses and discussions. The report is divided into five sections:
Application Trends
Component Technologies
University Research
Webinar Presentations
Power Supply and Converter Trends
For more details and the Table of Contents on the report see the Report Preview.
Conor Quinn, Co-Chair of the Power Technology Roadmap Committee, noted that "This report is the collaborative effort of more than one hundred volunteer participants who are recognized as leading experts in their respective fields. The breadth and depth of the presentations, commentary, and discussions have been outstanding and together have captured the technical trends and issues facing the power sources industry."
Dhaval Dalal, Co-Chair of the Power Technology Roadmap Committee also commented "With a greater diversity contained in the 22 webinar presentations, and richer Applications Trends, Power Supply and Converter Trends, University Research and Component Technologies chapters, this edition of the roadmap provides an even more comprehensive look at the emerging trends in power electronics technology and captures the interdependency between technology, products, components and applications."
PSMA Regular Member companies have each been sent one copy of the USB flash drive of the 2022 edition as a benefit of their membership. Members can access the webinars on line at no cost and purchase additional copies of the full report for $290. The non-member price is $4,490. For information about purchasing the report, please to the PSMA website at: www.psma.com/publications.